Recently, partners have been increasingly asking questions about what advantages the ability to set their own prices for the site provides and for what purpose this function was implemented. In this post, we will take a detailed look at how best to use this feature and for what types of traffic.
Brief background. Some time ago, with the help of A / B tests, we found that each landing page has its own optimal price grid, that is, a certain price range at which the conversion from visitors to buyers remains approximately the same, while the check grows positively. Therefore, we decided to share the same opportunity with our partners.
How high you can raise prices on the site, without sacrificing conversion, depends on several factors:
1) Page design. It is best to experiment with prices on a site with a unique design. The reason is that, if your design is not unique, there is no guarantee that the user has not yet visited a similar site with cheaper prices. In this case, raising prices will only play a plus for your competitor. However, this is more of a wish than a directive, since design is a secondary factor, and the main factor influencing a "painless" price increase will be described below.
2) Service reliability. You need to pay attention to this point, regardless of whether you change the price grid on your landing page or not, since this factor very actively affects the conversion in general. And if you still plan to experiment with prices, you should know that a relationship has been identified: the higher the reliability of the service, the higher prices you can set. On the LP itself (landing page), you can emphasize the "trust" of the source using:
a) mentioning the date of creation of the service, for example, on PaperHelp.org (if you plan to send traffic to this particular landing page later), this is 2008;
b) using a list of all guarantees, for example, a money back guarantee (for all guarantees on services, you can check with Edu-Profit.com support);
c) due to the presence of "Trust bags", such as: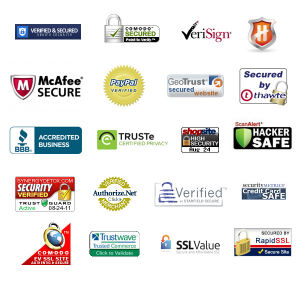 d) adding an "About us" page to the website;
e) an indication that the site works with the PayPal billing system. It was noticed that the presence of this system increases the envelope by almost a quarter and has a positive effect on the growth of the average check, so it is better to inform users about this billing right on the first screen.
f) if you are promoted by guest posts, and there are some publications about your service on serious portals, such as huffingtonpost.co.uk, you can also indicate this to users using the "write about us" block. Of course, the review itself should be positive 🙂
In addition to LP, it is necessary to work on external factors that affect the reliability of the source, namely, the brand's online reputation.
3) Type of traffic. This is perhaps the single most important factor in the ability to raise prices without sacrificing conversions. For what types of traffic does it make sense to set higher prices:
а) word of mouth. If you have an API, that is, you have a full-fledged separate site, and you have been actively bringing customers to it for more than six months, then you can be sure that you are already receiving some percentage of traffic through word of mouth. According to our calculations, after 2 years, the proportion of clients who came on the recommendation of a friend from all new clients reaches tens of percent. These users are more loyal and you can safely raise the price for them, because the recommendation of a friend is the best advertisement and a guarantee of reliability.
b) SEO traffic. There are a number of requests for which orders are made from the 1st position more often than others, without switching to other sites in the search results. These are requests related to the speed of work, such as "help me write an essay in 3 hours", "essay writing service due now", "help with essay now please", etc. And also, "lazy requests", that is, those that contain the construction "do my" or "write my", for example: "do my essay for me", "make my homework for me", "where can I find somebody who can write my essay for me", etc. If you have an LP that is in the top for such queries, try to raise prices.
c) referral traffic. In this case, we are talking about traffic from good sources, such as review articles that "warmed up" your lead well, or service comparison sources, or guest posts. We are talking about traffic that already knows which site it goes to and for what purpose. It does not need to be "converted" on your landing page.
As for doorway traffic, you need to try and experiment.
The functionality of creating flexible prices. We have created a system that will allow you to change the prices of one or more of your LPs as often as you wish. This was done for the convenience of conducting experiments and quickly identifying the optimal price grid for your type of traffic. At the same time, the price is tied to each client, so this will not negatively affect rebills. The situation where a client sees new prices on the service every day and, discouraged by inconstancy, leaves, is excluded, so you can experiment without compromising rebills.
Read more about the functionality on the page.